Tags
Apex, blogs, Business Social Media Remarks Presented to the Apex Rotary 1-17-13, Cary, Detroit, facebook, google +, IMUSocialMedia, Inside919, Las Vegas, North Carolina, small business social media, Triangle, Triangle NC, twitter, Word Press. Blogger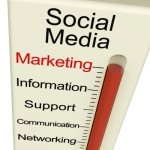 Thank you for inviting me this afternoon to talk about business social media. Now I am not an IT professional. And I am certainly not a Webmaster. But after 26 years in internal communications for the automotive industry and another 10 in retail sales and sales training, I am indeed a MESSAGE GUY. And messages are now principally found across social media platforms.
I own IMU Social Media, an 18 month old micro business that is headquartered right here in Apex. We do strategy and social media content for other small businesses that need our services. It has been a whirlwind experience for both growth and opportunity.
**
Let me ask you this: who has been to Las Vegas recently?
Now who wants to share a "Vegas stays in Vegas story?"
I understand completely.
I have to tell you that nothing is more over the top than Las Vegas at Christmas. We were there just a month ago and we stayed on the 27th floor of the Fabulous Flamingo and enjoyed the Famous Four Corners view of Bally's, Paris, the Bellagio, and Caesar's Palace.
The intersection of Flamingo Road and Las Vegas Boulevard is non-stop 24-7 action; it is the heart of the Strip.
In Las Vegas, there is never a Monday, or even a Saturday, there are only days. It just never stops.
**
The famous four corners of Social Media are just as action-driven. The Internet never ever stops!  At the now famous intersection of Google, Facebook, Twitter, and YouTube everything happens across Web 2.0.
Every single one of us in this room needs to play right on this corner. If your business needs social media, this is where you want and need to play.
Micro small business, the heart of what Apex is all about, has no time to take that trip to Vegas this afternoon. They are too busy as they head into the last two weeks of January.
It is because we all have businesses and careers to grow in this still sluggish economy. We have no time to "gamble" with the future.
With that said, branding, marketing, advertising, sales and social media have to blend and be an integral aspect of every business. It does not make a difference if you are a solo professional, a micro business or a small business. You have to be THE WHALE, that big player in the world of business social media.
Most business owners only know this about being involved with social media:
They do not want to do it themselves

They do not know how or where to do it

They are not doing it right now

They do not understand what needs to be done 

They did it for a while but they stopped because of time

Your competition is doing a pretty good job at it
Here are the facts: businesses need content, strategy, visibility, consistency and engagement.
Social media MUST be a part of the daily routine.
The focus has to be on Google for search-ability and link-ability (3 billion searches a day), and Facebook because of vastness (1.2 billion people). It is the third biggest nation in the world behind China and India; every business MUST have presence there. Twitter is also a huge player with over 200 million regular users. This micro-blogging empire is critical to engagement especially with direct client communication and customer service. It is all about engagement in the world of Web 2.0. And YouTube, owned by Google, is the video capital of the world. It has 490 million visits a month.
Here is the problem many of us face. WE THINK WE DO NOT HAVE TIME! Businesses often complicate and over think social media to the point that a 140 character plus spaces and hash tags are almost an impossible task. But look at it like you would any other aspect of the business. It is here to stay and growing exponentially.
Let me discuss blogging for a minute…
For marketing, blogging is the heart of your message. Blogging can drive traffic to your website. It is why content is king for your business. But it has to be good and organic (written by real people) or Google simply will not index it.
NOW, businesses can do hundreds of definable branding activities on the Internet from Google + and Instagram to Pinterest, Tumblr and LinkedIn. But again keep things simple; right now, businesses should only focus on the Big Three… Facebook, Twitter, and Word Press blog articles.
Here is our "secret sauce". I love Bojangles. And I love it so much that we have replicated the business model for IMU. Bojangles is always out the door jammed all the time. The drive-thru is continuous car after car, like a parade down Salem Street.
Yet when you stop and smell the chicken, Bojangles really only does three things very well: biscuits, chicken and sweet tea. That is it. Now they might wing a sausage biscuit to people in the morning and some hot fries to others in the afternoon, but what makes them so successful is that awesome fried chicken tied to fresh biscuits and kick butt sweet tea. Their slogan, famous chicken and biscuits, says it all.
We believe a social media menu should have only three items on it. Business Facebook, Business Twitter, and Business blog posts on Word Press/ Blogger. It is where your clients (primary audience) are and your clients clients (secondary audience) are most of the time.
**
Yes, you do need an individual LinkedIn professional presence. It is a "gotta have". Make sure you have a complete profile, a great glamour picture and that you are in the right groups and associations, but no one is looking for your business there on a daily basis. They only look for you. It is a solo professional networking and connection site.
If you have ever driven the new TRI EX from Holly Springs to Durham during the day or later at night, you are alone. As of today, this is where Google + is. It just not has caught on yet. Again, it is geared more for individuals (like Linked In) than small business. there are only 135 million "members". My educated guess is that less than 10% of them use it like Facebook. Google + is simply not a player yet.
The social savvy organizations are on Facebook and Twitter, and they blog for visibility to drive traffic to their main websites. Now, the key to business success is three fold: Time, Money, and Client Acquisition. We need to be critically aware of these ingredients as business people because it drives success.
If your business plays in the local and regional market place, you need fresh organic content. Again, content is king. Our view that content is THE ONLY THING. EVERYTHING IS MESSAGE.
Consumers across the Triangle, and most of your clients and customers are now online ALL THE TIME! It is the best way to brand and market today. You have to connect people DIRECTLY to your content. Blog posts, Facebook posts, tweets, webinars, podcasts, videos must ENGAGE your readers and get them to like, re-tweet and SHARE the information.
Most of this is money free. Put your time into those famous corners.
People are on Facebook about seven times a day here in the Triangle. Facebook might not be your landing page. But Facebook can be THE MAGNET is you do it right.
Although traditional marketing strategies like print coupons, banners, postcards, and post-its on local mail boxes are now less and less important, if they work for you, continue to use them.
But the focus online is now the foundation.
Businesses need to do it online and they need to do it organically, REAL CONVERSATION FROM REAL PEOPLE, and keep it fresh. In the old days (2012), marketing campaigns lasted months. Today they can be continually assessed, timed and readjusted in just minutes with social media.
It is all about content creation and strategy, and the organic posts and tweets that attract clients and new business.
A lot of what we do in social media marketing we can do with a smartphone; but it is in the visibility and consistency of the content that draws readership and engagement. You do not have to be slick and fancy to be effective. You just have to be effective. You need to put the face of the business on Facebook, Twitter and Word Press and be consistently ENGAGING. The lines of communication between the business and your chosen audience must be CONTINUOUSLY open.
Content marketing and 2013 go hand-in-hand. Small companies can indeed compete on the same level as the big companies because of the content. The playing field has been evened up. The agility (quickness and focus) of your content is YOUR SECRET SAUCE.
Let's look again at the chicken, the biscuits, and sweet tea for a few minutes:
Business Facebook: This is the HOME RUN place to be. What does your page look like? It is filled with posts and pictures? Are you constantly evolving and improving with each and every post? Are your LIKES REAL and organic?
Business Twitter: Your tweets must be different from your Facebook posts; different audiences. Do not cut and paste one to the other. Always include a picture; people are visual. Just make sure that you do not pull the photos from Google Images; only Google can do that. Go to a site that allows (gives permission) free downloads. Although you must go through a couple of hoops like an e-mail registration and CAPTCA fill-ins it is worth eliminating the chance of using a picture illegally. Fill your Twitter page with links and helpful educational views steered by #'s. Helpful, clever and friendly work on Twitter.
Word Press/ Blogger Blog Posts: We recommend using Word Press.com. Google, although the owner of its own blogging site, Blogger; loves to index and page rank excellent content written by real people. It scans the first and last line of every post, determines the "legitimacy" of the article and indexes it. We make sure that Google is our best friend by placing what we call an "optimized title" and a linkable "resource box" or footer with live URLS; we place a number of searchable tags into the post along with links and we always use a great picture.
Here is another "secret sauce trick". Keep the blog article to about 300 words. No one has time to read your version of WAR & PEACE. People today all have ADD. Not the ADD you are thinking of, this ADD stands for ALL DATA DUMPED.
In the 86,400 seconds you have every day, from the time you get up until the time you get up, (24 hours) you are hit with up to 100 e-mails, a dozen texts, 20 voice mails (the majority of them you delete without listening to), and you are in and out of Facebook and Twitter 10 times. Who has time to read anything for more than five minutes?
Short and sweet single topic posts that DO NOT SELL ANYTHING, get indexed with good page rank and they get "googled". And what business does not want some Google love?
Make sure those 300 words include an external link or two and an internal link directed back to your website. Add some SEO, some "locationals" like RTP, Apex, Salem St., and a simple call to action and you will rock and roll.
YouTube is great for sharing videos as links on Twitter and Facebook. I recently placed well thought out Christmas music videos on all of our managed sites and people loved it.
Here is a sample social media game plan:
Look at the history of the business, current situation, and your marketing strategies then:  
Set Goals
Choose the right platforms for you on social media
Assess your target audiences EVERY DAY
Define both the challenges and the opportunities and make them objectives
Track and measure basic and free analytics for growth and return
Use liquid (quickly changeable)strategies and tactics and CHANGE them up.   
Remember that agile engagement, relationships, sociability, consistency, message, strategy, and opportunity will build your business. Do it right and remember to build your business on those FOUR CORNERS without gambling away your time, money or clients.
Relevant content will always fuel loyalty and passion. And it does not cost a ton of money. Listen to your clients, they will tell you how to build the right content. Results are everything.
Just remember that social media is a work and that doing it without assessing it is a waste of time.
And speaking of time, according to Forbes, creating quality content in a small business can take  up to six hours or more a week. It is a huge commitment. Remarkably, only 50% of businesses in the United States have a blog presence and many only focus on "BUY OUR STUFF NOW!!!" If you do it right, you will get business.
There is indeed ROI to social media if you are at the four corners and not 27 floors up in your room watching the action. Jump in now before it is too late. And do it right for your business and your clients.
Thank you!
NOTICE: The information contained in this presentation is intended by IMU Social Media for the SOLE use of the individual(s) to which it is sent. Any information contained within it is privileged and confidential. Resending to any other individual is prohibited except and only if the re-sender is authorized IN WRITING by IMU Social Media to receive this PDF. If you have received this attachment by mistake, please delete it without copying it or forwarding it, and kindly notify IMU Social Media of the error.
Jim Vogel
jim@imusocialmedia.com
919 533 9069
https://www.imusocialmedia.com
Photo: IMU SOCIAL MEDIA